Kids Media specialises in communicating with classroom teachers and, home school educators and their students, throughout Australia and internationally. We are an Australian-owned company and have been in operation for more than 25 years.
Australian and State government departments and agencies, as well as large industry associations and the corporate sector have engaged Kids Media to develop education communication strategies, education resources and school promotional programs.
Complementing these services is our very successful education resources portal, 'FOR TEACHERS for students' (FTfs) www.forteacherforstudents.com.au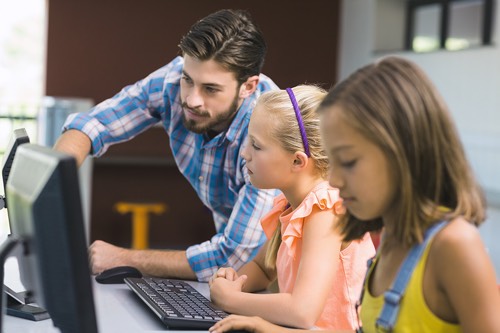 Education communication services
Take advantage of Kids Media's extensive education communication expertise, together with our in-depth understanding of the Australian teaching environment across all states and territories, to effectively communicate with teachers and students.
We offer the following specialised education communication services:
Education communication strategies
We can work with you to develop an education communication strategy designed to cost-effectively communicate your education messages, programs, websites and events to the broader education community.
General community-friendly 'Fact Sheets'
We can assist you to achieve exposure for your organisation within both the broader general community and the education community.
We do this by taking raw information about your particular industry and repurpose it into interesting, easy to comprehend 'Fact Sheets' to engage specific target markets.
We can also promote your new 'Fact Sheets' to the broader education community via our 'FOR TEACHERS for students' education resources web portal. Our website download statistics have proven that our fact sheets are very popular with educators.
Education resource development
We have developed Australian curriculum-appropriate education resources for more than 25 years.
Our approach to inspiring busy educators to integrate client messages and resource material into classroom learning programs has proven to be very effective.
Our clients' education resources have taken many forms from, hard-copy resources to electronic resource material, designed for quick and easy download.
'FOR TEACHERS for students' (FTfs) Facebook page
Promote your free education programs/resources, messages, projects and events on Kids Media's 'FOR TEACHERS for students' (FTfs) Facebook page www.facebook.com/FORTEACHERSforstudent
We are members of more than 90 Facebook groups, which we can utilise to extend the reach of your Post. It would be shared with selected and appropriate classroom teacher and home school educator groups.
Teacher-focused promotion
If you have free education resources to share with the Australian education community, we can assist you. It can be problematic making teachers and students aware of your resources, so why not draw on our 25+ years of experience communicating effectively with the Australia-wide education community?
We have a number of cost-effective promotional options that we can discuss with you.
'Education Promotion Contacts' list
Finding cost-effective ways of promoting your free education resources (print & electronic), programs, websites and events can be difficult.
Kids Media has researched and developed an 'Education Promotion Contacts' list containing details of over 30 national contacts, plus many more state and territory-based contacts.
The list of contacts has been specifically designed for clients to quickly and easily identify relevant educational organisations to allow effective communication with educators throughout Australia.
Review of client education resources and websites
If you have new education resources being developed or existing resources in need of updating, we can provide a review service. Kids Media can draw on its 25+ years of specialised education resource development experience to provide feedback from the classroom teachers' perspective.
Kids Media has a long history of developing flexible, fit-for-purpose, long-lasting education resources and websites that have been proven to be well-utilised by primary and middle-years teachers and home school educators throughout Australia.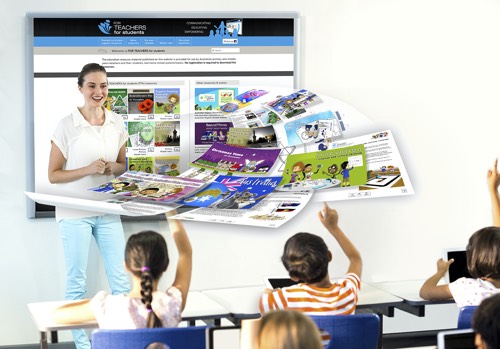 'FOR TEACHERS for students' (FTfs) education website
Now in its 16th successful year, the 'FOR TEACHERS for students' education resources portal is well-visited and highly-respected. It is utilised regularly by classroom teachers, the casual/relief teacher community and home school educators throughout Australia.
Educators are not required to register or login to access and download FTfs content, making it a very attractive education resource.
The FTfs website can provide an exceptional opportunity for government and the corporate sector to expand their education exposure by being part of this unique, cross-curricular education resource hub.


FORTEACHERSforstudents.com.au

Find us on Facebook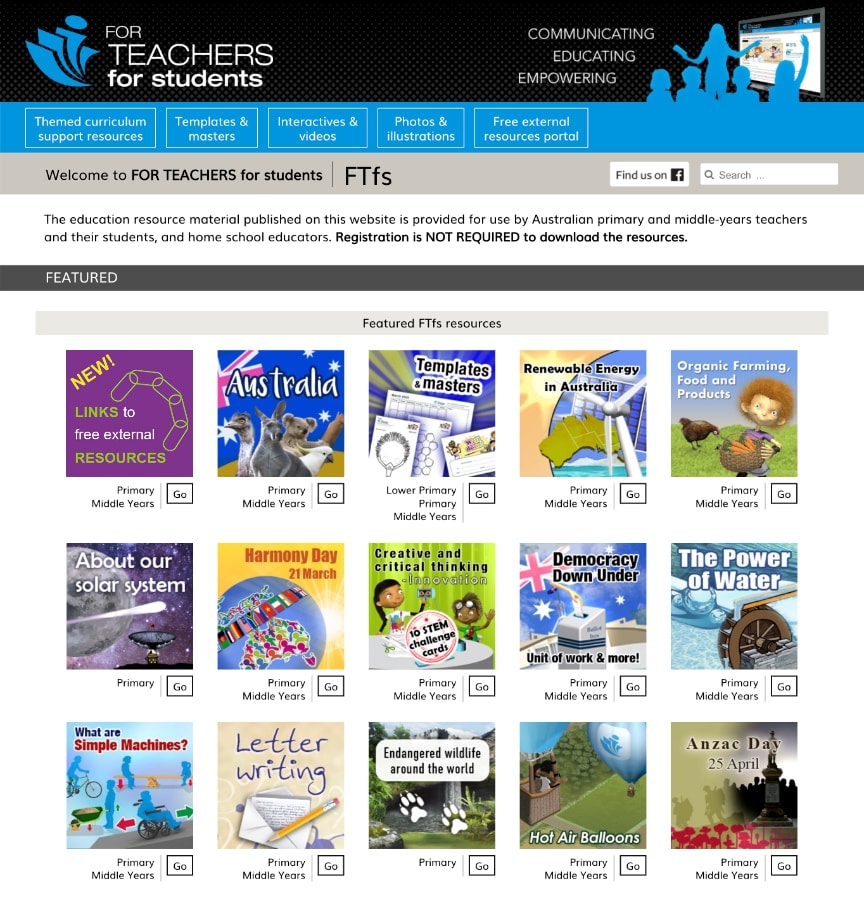 As an anti-spam measure we have not published our email address on this website.
Please contact us via email by completing the form below.